DAMMIT I CAN'T STOP D8 *hit* AND STFU IT HAS 9 TRACKS BUT THE LAST ONE DOESN'T COUNT SO IT'S AN EP DAMN YOU *hit*
I tell myself I wouldn't make another one - that I couldn't make another one - and what do I end up doing? Dammit, they keep pulling me back. D8 Well, this one focuses pretty much completely on Zelos' side of the relationship, if that's any consolation... and has a bit of a story. A lame story. *hit*
Anyway, please comment, yadda yadda yadda. I'm a nerd with no life, thank you. And yes, I raped my layout for the covers since I just wanted to get this done and out of my brain. Thank you.





ME ON MY WAY TO YOU; ZELOS/SHEENA EP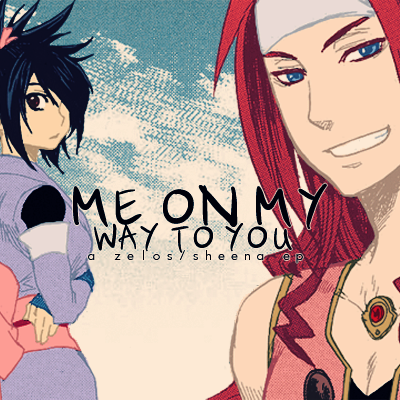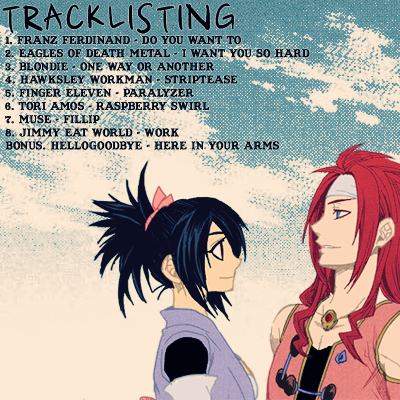 01 Franz Ferdinand - Do You Want To
Oh well I woke up tonight and said I
I'm gonna make somebody love me
I'm gonna make somebody love me
And now I know, now I know, now I know
I know that it's you
You're lucky, lucky
You're so lucky!
Oh well do you, do you do you want to?
Oh well do you, do you do you want to, want to go
Where I've never let you before?
The first meeting - Zelos targeting Sheena for the first time, coming onto her like he would any other girl.

02 Eagles of Death Metal - I Want You So Hard
I want you so hard
I want you so good
Now take a chance, momma
You know you should
Trust your instincts and let me in
Intrigued with her denial of his advances, he begins his usual method of persuasion, and keeps with the constant attempts to get Sheena to fall for him.

03 Blondie - One Way or Another
One way or another, I'm gonna find ya'
I'm gonna get ya', get ya', get ya', get ya'
One way or another, I'm gonna win ya'
I'm gonna get ya', get ya' ,get ya', get ya'
One way or another, I'm gonna see ya'
His mind set, his constant flirting, Sheena denying him more than ever, and him still thinking this is just a fling that's hard to get.

04 Hawksley Workman - Striptease
All the ways you never ever had
I want, I want you bad
You know I'll never make you sad
I want you bad, I want you bad
As if I never said the words
I want, I want you first
Only thing that can quench my thirst
I want you first, I want you first
Focusing more on her than his other girls, he's little more determined, a little more dirty, but still doesn't get any closer to winning to Sheena's heart as she derails him and leaves.

05 Finger Eleven - Paralyzer
Well I am imagining
A dark lit place
Or your place or my place
Well I'm not paralyzed
But, I seem to be struck by you
I want to make you move
Because you're standing still
If your body matches
What your eyes can do
You'll probably move right through
Me on my way to you
The recollection of first seeing her long ago, and now getting their relationship back on track, if only to be in a group and have her still deny him.

06 Tori Amos - Raspberry Swirl
Things are getting dear desperate just when all the boys can't be men.
Everybody knows I'm her friend, and everybody knows I'm her man...
Huh-huh-huh, let's go.
I am not your señorita. I don't aim so high.
In my heart- in my heart, I have done no crime.
If you want inside her, well, boy you better make her raspberry swirl.
He defends her, and protects her, and keeps his claim on her - even as things start to get bad.

07 Muse - Fillip
Accuse me
Trust me, I never knew
That you were the one
You were the one
And it's gonna be our last memory
And it's led me on and on to you
His realization that perhaps she does care for him, that maybe leaving her is a bad idea - and noticing that he's more serious about her than he was in the beginning.

08 Jimmy Eat World - Work
If you only once would let me
Only just one time
Then be happy with the consequence
With whatever's gonna happen tonight
Don't think we're not serious
When's it ever not?
The love we make its give and its take
I'm game to play along
Now it's just convincing her to realize he has a place in her heart, and that them being together really wouldn't be so bad - and that he loves her, too.

BONUS Hellogoodye - Here In Your Arms
I like where you sleep
When you sleep next to me
I like where you sleep... here
Our lips can touch
And our cheeks can brush
Our lips can touch... here
Well, you are the one
The one that lies close to me
Relishing in capturing her, and pleased to have a woman who actually cares for him, Zelos gets his girl and Sheena finally loves him back.
Honestly, I put this one on for grins. *hit*

.ZIP
SENDSPACE & MEDIAFIRE




Well, there you have it. I did it again. D: I wonder why my EPs seem so much more upbeat than my full FSTs... Oh well. I'm gonna go kill myself with my own skull nerdiness stupidity now, kthx. :| If I do this again, somebody slap me please.

EDIT - PLEASE READ!! Apparently, the .zip file is being goofy and only is containing a file called '_MACOSX' or something. This is probably because I have a Mac at home, and the .zip decided to goof up on my flashdrive. It might work for Mac users, but I'm not sure. :| I'll rezip it and hopefully get it fixed here soon. (Soon being within the week.) Until then, the individual mp3 files should work. I'm very sorry. ;;

EDIT - PLEASE READ THIS ONE NOW!! I've reuploaded the .zip, and it should work now. Sorry about that. D8 ♥ Tell me if you have any other problems.